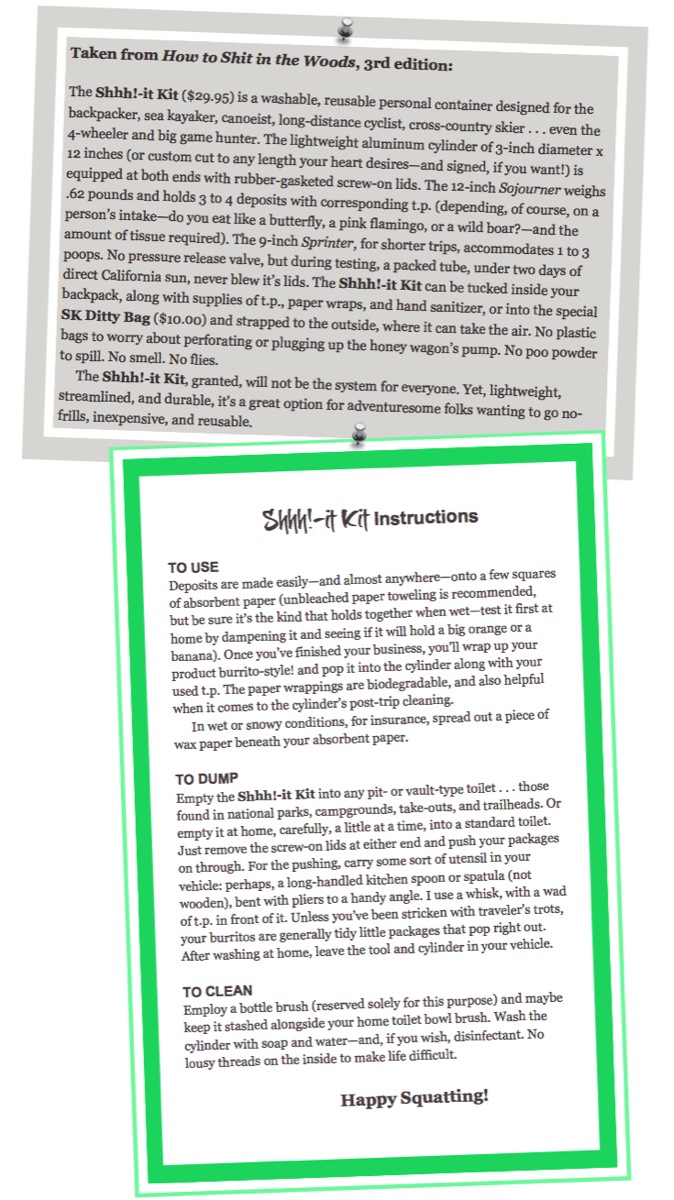 The practice of
packing-it-out
—that is, transporting human fecal matter out of the backcountry—originated in the United States in the early 1970s. Boaters in the Grand Canyon, out of necessity, began establishing systems to deal with the concentrated nature of poo left by parties camping on the limited beaches of the steep and narrow canyon. Containerize it, haul it out!
Now, well into the 21st century, the number of folks venturing down rivers, along coastlines, and up mountainsides has swelled tenfold. The aesthetic grandeur of many wild places is threatened—as well as the very health of eco-systems and visitors.
More and more backcountry recreation areas are encouraging voluntary packing-it-out, or adopting removal regulations.
_________
*This dandy container is currently languishing in prototype, awaiting either grant or seed money to cover the manufacturing of dies. Nonetheless, I'm excited to tell you about it. And . . . all encouraging emails are welcome!
The Shhh!-it Kit
($29.95)


. . . is a washable, reusable personal pack-it-out container designed for the backpacker, sea kayaker, canoeist, long-distance cyclist, cross-country skier . . . even the 4-wheeler and big game hunter. The lightweight aluminum cylinder of 3-inch diameter x 12 inches (or custom cut to any length your heart desires—and signed, if you want!) is equipped at both ends with rubber-gasketed screw-on lids. The 12-inch Sojourner weighs .62 pounds and holds 3 to 4 deposits with corresponding t.p. (depending, of course, on a person's intake—do you eat like a butterfly, a pink flamingo, or a wild boar?—and the amount of tissue required). The 9-inch Sprinter, for shorter trips, accommodates 1 to 3 poops. No pressure release valve, but during testing, a packed tube, under two days of direct California sun, never blew its lids. The Shhh!-it Kit can be tucked inside your backpack, along with supplies of t.p., paper wraps, and hand sanitizer, or into the special SK Ditty Bag ($10.00) and strapped to the outside, where it can take the air. No plastic bags to worry about perforating or plugging up the honey wagon's pump. No poo powder to spill. No smell. No flies.
The Shhh!-it Kit, granted, will not be the system for everyone. Yet, lightweight, streamlined, and durable, it's a great option for adventuresome folks wanting to go no-frills, inexpensive, and reusable.

TO USE
Deposits are made easily—and almost anywhere—onto a few squares of absorbent paper (unbleached paper toweling is recommended, but be sure it's the kind that holds together when wet—test it first at home by dampening it and seeing if it will hold a big orange or a banana). Once you've finished your business, you'll wrap up your product burrito-style! and pop it into the cylinder along with your used t.p. The paper wrappings are biodegradable, and also helpful when it comes to the cylinder's post-trip cleaning.
In wet or snowy conditions, for insurance, spread out a piece of wax paper beneath your absorbent paper.


TO DUMP
Empty the
Shhh!-it Kit
into any pit- or vault-type toilet . . . those found in national parks, campgrounds, take-outs, and trailheads. Or empty it at home, carefully, a little at a time, into a standard toilet. Just remove the screw-on lids at either end and push your packages on through. For the pushing, carry some sort of utensil in your vehicle: perhaps, a long-handled kitchen spoon or spatula (not wooden), bent with pliers to a handy angle. I use a whisk, with a wad of t.p. in front of it. Unless you've been stricken with traveler's trots, your burritos are generally tidy little packages that pop right out. After washing at home, leave the tool and cylinder in your vehicle.


TO CLEAN
Employ a bottle brush (reserved solely for this purpose) and maybe keep it stashed alongside your home toilet bowl brush. Wash the cylinder with soap and water—and, if you wish, disinfectant. No lousy threads on the inside to make life difficult.