When Patrick and I set off together, we were: farrier, author, actor, editor, sailor, storyteller, philosopher, drywall contractor, commercial fisherman, whitewater rafting guide, packer, teamster, teacher, canoeist, sea kayaker, gourmet camp cook, cowboy, wrangler, rambler, roughneck, and entrepreneur. Now for a new type of adventure. Wagons ho! Yessireee!
In the 1850s, the wagons that rolled west were typically built without drivers' seats. Everyone walked. Or, sometimes rode a wheel horse (the team hitched closest to the wagon). If a family member came up sick, a pallet was fashioned among the stores of food and household belongs packed in the wagon. Because our covered wagon was heavy, jammed to the scuppers, one of us always walked, to spare the horses. Our team, Pancho and Lefty, were draft horses in top condition, but they were working to their limits "pulling our wagonload of camp bedding, pots and pans, food boxes, coolers, Coleman stove and lantern, a trunkful of clothes (petticoats, high-button shoes, bonnets, and such), horse tack, grain, battery post-and-wire paddock, a box of my first book and our maps and notebooks, large tarps and tipi poles to create sheltered work areas, a mountain bike for laundry and grocery runs into towns, a shovel, an ax, an anvil, a forge, and then Patrick's shoeing tools, propane tanks, and a weighty assortment of steel bar-stock for turning horseshoes."
(
Barefoot Hearted
, Introduction)
When Patrick and I set off together, we were: farrier, author, actor, editor, sailor, storyteller, philosopher, drywall contractor, commercial fisherman, whitewater rafting guide, packer, teamster, teacher, canoeist, sea kayaker, gourmet camp cook, cowboy, wrangler, rambler, roughneck, and entrepreneur. Now for a new type of adventure. Wagons ho! Yessireee!
In the 1850s, the wagons that rolled west were typically built without drivers' seats. Everyone walked. Or, sometimes rode a wheel horse (the team hitched closest to the wagon). If a family member came up sick, a pallet was fashioned among the stores of food and household belongs packed in the wagon. Because our covered wagon was heavy, jammed to the scuppers, one of us always walked, to spare the horses. Our team, Pancho and Lefty, were draft horses in top condition, but they were working to their limits "pulling our wagonload of camp bedding, pots and pans, food boxes, coolers, Coleman stove and lantern, a trunkful of clothes (petticoats, high-button shoes, bonnets, and such), horse tack, grain, battery post-and-wire paddock, a box of my first book and our maps and notebooks, large tarps and tipi poles to create sheltered work areas, a mountain bike for laundry and grocery runs into towns, a shovel, an ax, an anvil, a forge, and then Patrick's shoeing tools, propane tanks, and a weighty assortment of steel bar-stock for turning horseshoes."
(
Barefoot Hearted
, Introduction)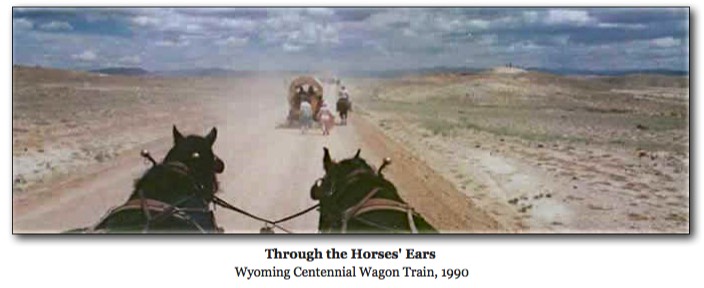 "In spring, we again took to the trail: some paved, some dirt, some merely grass-grown wheel ruts. The Wyoming Centennial Wagon Train [a hundred wagons and, on some days, as many as six hundred outriders]—Casper to Cody over the course of a month—was our last leg and the most trying. Early American settlers in coming west had wound alongside rivers when they could, bottomland that today is mostly fenced and given over to irrigated field crops. Our sometimes five-mile-long entourage—flags and horses and wagons and support trucks—was routed instead across windswept cactus barrens.
"Beneath the big desert sun, our days unfolded in a macaronic version of the Wild West. There were runaways, fistfights, and failing money supplies—much like a hundred fifty years ago. Wagons bogged down and turned over in mud holes and sand pits. Wheels broke. Horses took sick. A blond grit sifted into food containers and bedding and underwear. Every evening about dinnertime, a semi truck steamed into camp stacked high with hay for the stock: saddle horses, packhorses, draft horses, mules, burros. The train's water supply also arrived by truck. Two fat-bellied tankers made the rounds from circle to circle, one filling the fourteen stock tanks, the other the wagon barrels and canteens.
"On the hottest candy-sticky days and when the supply of people's drinking water was judged to be in surplus, the tanker driver mercifully held the big hose for large gatherings of us standing around sudsing our sweat-itchy scalps and dust-laden hair. Out of a second semi, a mobile grocery store operated. You could purchase the overpriced food conveniently offered at its back door, or do as we did and con tourists agog over visiting an authentic-looking wagon train into taking away a list of desired fresh vegetables, milk, and eggs, and delivering them to the next camp. Each afternoon about two o'clock, after the day's stint of hauling up steep sagebrush grades and filing though sandstone canyons, invariably we topped some rise and through the horses' ears I would glimpse across a sun-bleached landscape a little town of white buildings. It was the same town every day. Thirty-eight portable outhouses trucked in for the night's camp."
(from
Barefoot Hearted
)
*Unless otherwise noted, photos in the Photo Gallery were taken by Kathleen Meyer. CWT stands for Centennial Wagon Train.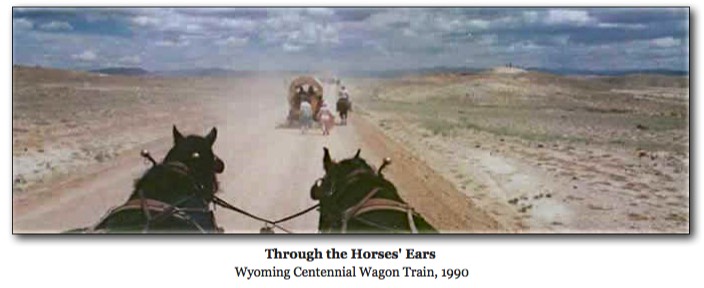 "In spring, we again took to the trail: some paved, some dirt, some merely grass-grown wheel ruts. The Wyoming Centennial Wagon Train [a hundred wagons and, on some days, as many as six hundred outriders]—Casper to Cody over the course of a month—was our last leg and the most trying. Early American settlers in coming west had wound alongside rivers when they could, bottomland that today is mostly fenced and given over to irrigated field crops. Our sometimes five-mile-long entourage—flags and horses and wagons and support trucks—was routed instead across windswept cactus barrens.
"Beneath the big desert sun, our days unfolded in a macaronic version of the Wild West. There were runaways, fistfights, and failing money supplies—much like a hundred fifty years ago. Wagons bogged down and turned over in mud holes and sand pits. Wheels broke. Horses took sick. A blond grit sifted into food containers and bedding and underwear. Every evening about dinnertime, a semi truck steamed into camp stacked high with hay for the stock: saddle horses, packhorses, draft horses, mules, burros. The train's water supply also arrived by truck. Two fat-bellied tankers made the rounds from circle to circle, one filling the fourteen stock tanks, the other the wagon barrels and canteens.
"On the hottest candy-sticky days and when the supply of people's drinking water was judged to be in surplus, the tanker driver mercifully held the big hose for large gatherings of us standing around sudsing our sweat-itchy scalps and dust-laden hair. Out of a second semi, a mobile grocery store operated. You could purchase the overpriced food conveniently offered at its back door, or do as we did and con tourists agog over visiting an authentic-looking wagon train into taking away a list of desired fresh vegetables, milk, and eggs, and delivering them to the next camp. Each afternoon about two o'clock, after the day's stint of hauling up steep sagebrush grades and filing though sandstone canyons, invariably we topped some rise and through the horses' ears I would glimpse across a sun-bleached landscape a little town of white buildings. It was the same town every day. Thirty-eight portable outhouses trucked in for the night's camp."
(from
Barefoot Hearted
)
*Unless otherwise noted, photos in the Photo Gallery were taken by Kathleen Meyer. CWT stands for Centennial Wagon Train.
Patrick McCarron grew up on a farm near the Canadian border in the hard-scrabble, Great Lakes country of Sault Sainte Marie, Michigan. At the age of five, he was driving his father's work teams, then later the horse-drawn tour buggies and taxis on Mackinac Island, where auto-
mobiles have been banned since 1896. His inspiration for a career in horseshoeing harkens back to his grandfather, a blacksmith who immigrated from Ireland to Ontario, to Michigan.
In pursuit of his own wander-lust, McCarron toured three seasons with the Caravan Stage Company, a Canadian theater troupe traveling by means of five, brightly painted gypsy wagons, thirteen Clydesdales, and five saddle horses. He was farrier, teamster, and actor on the company's two-year swing down the West Coast of the U.S. and then a summer along the St. Lawrence Seaway, Ontario, and into New England. When he and Kathleen met, rather than move conveniently into an abode, they set off instead in a rebuilt, hundred-year-old wagon to spend two years viewing three Rocky Mountain states over the big black haunches of a team of drafts (Pancho & Lefty).
McCarron is a 1977-graduate of Montana State University Horseshoeing School, in Bozeman, and an AFA (American Farriers Association) Certified Journeyman Farrier. He believes strongly in the educational value of continuing participation in clinics and contests and is a regular enrollee, particularly at Bob Marshall clinics. He studied draft horse shoeing with Rocky Irons at the Atlantic Farrier's School in Nova Scotia and with Edward Martin in Closeburn, Scotland. In 1990, he was the official farrier for the Wyoming Centennial Wagon Train, with its one hundred wagons and six hundred outriders. More recently, he was the judge for the 2003 Draft Horse Classic in Grass Valley, California. McCarron has been a member of the Montana Professional Farriers Association since 1990; he was on the board of directors for seven years; and he was the editor of the newsletter, Iron and Hammer, for three.
Harboring a deep-seated aversion to petroleum powered vehicles, and ever-preferring to drive horses, McCarron, in 1990, opened the Romany Forge, a horseshoeing establishment in Victor, Montana. To his great delight, he manages to shoe half his horses on the premises. When he does drive his shoeing rig, he carries his grandfather's anvil.
2007: Because of medical issues, Patrick retired from active shoeing.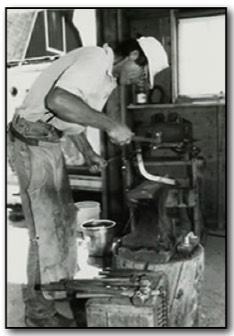 Thanksgiving at Jeannie's!
Patrick leads the Christmas Parade, while,
at every chance, I steal the candy for the children!
Patrick leads the Christmas Parade, while, at ever chance, I steal the candy for the children!
PACO, Sooooo many laughs!